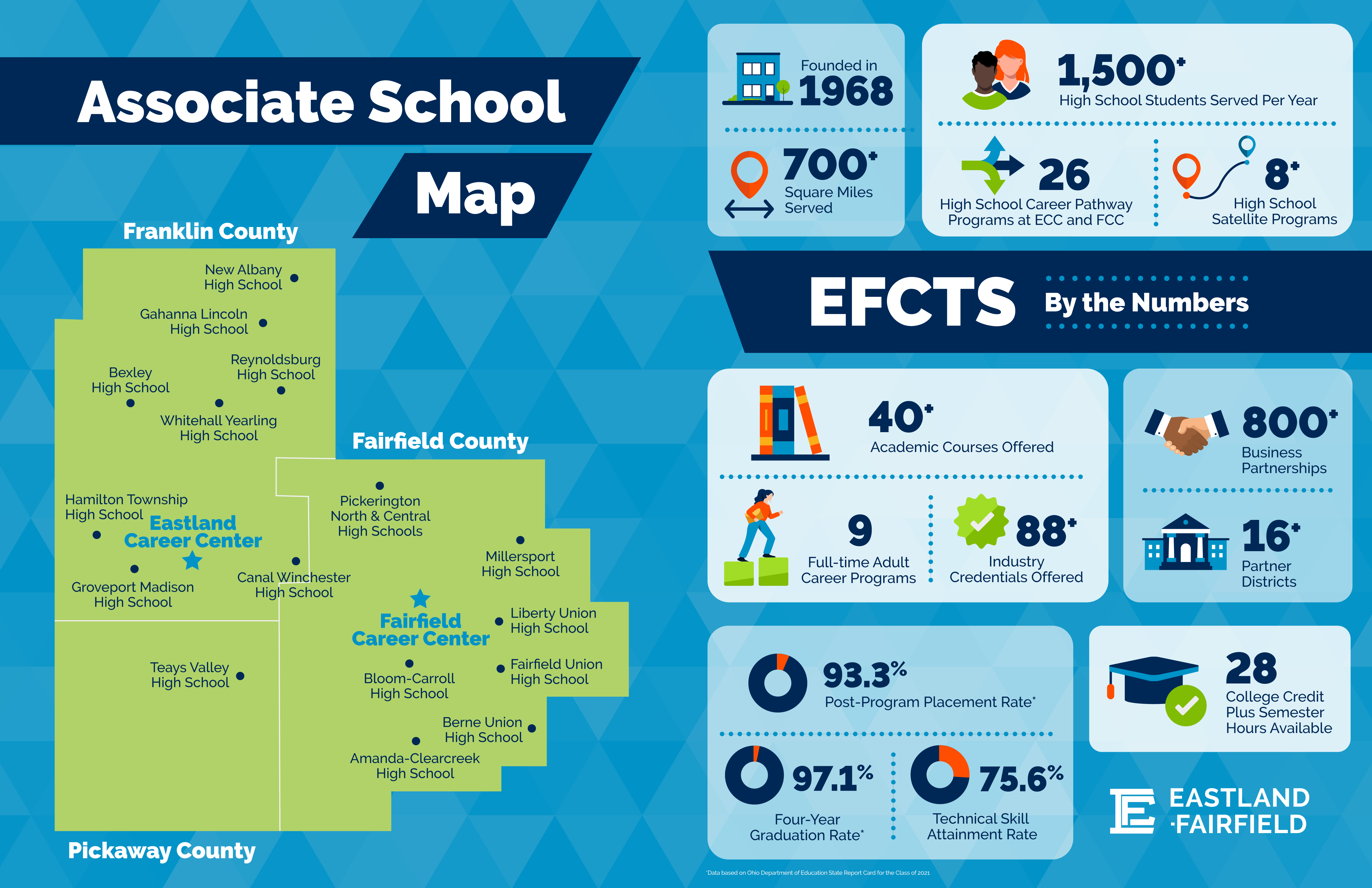 Eastland-Fairfield Career & Technical Schools serves 16 school districts and 17 high schools in Franklin, Fairfield, and Pickaway counties. Our planning district and the students we serve come from an area of over 700 square miles, making Eastland-Fairfield the seventh-largest career and technical district geographically in the state.
Students in 11th and 12th grade that reside in the EFCTS planning district are eligible to enroll in our high school programs, while those 18 and over* are eligible to register for EFCTS Adult Workforce Development programming.
The District has two main campuses — Eastland Career Center in Groveport and Fairfield Career Center in Carroll, with satellite program locations at four of its associate high schools: Gahanna Lincoln, Groveport Madison, New Albany, Pickerington North.
Eastland-Fairfield also provides middle school career exploration programming. Currently, 10 middle schools across eight different districts within our planning district offer Career Connections classes, staffed by EFCTS.
Eastland-Fairfield also offers a vibrant and accredited Adult Workforce Development program that features both long-term and short-term training.
Our Mission, Vision, and Values
Our mission, vision, and values drive our work, every day. They are a significant part of the EFCTS strategic plan and can be felt through every decision and action taken to better our students, staff, families, and communities.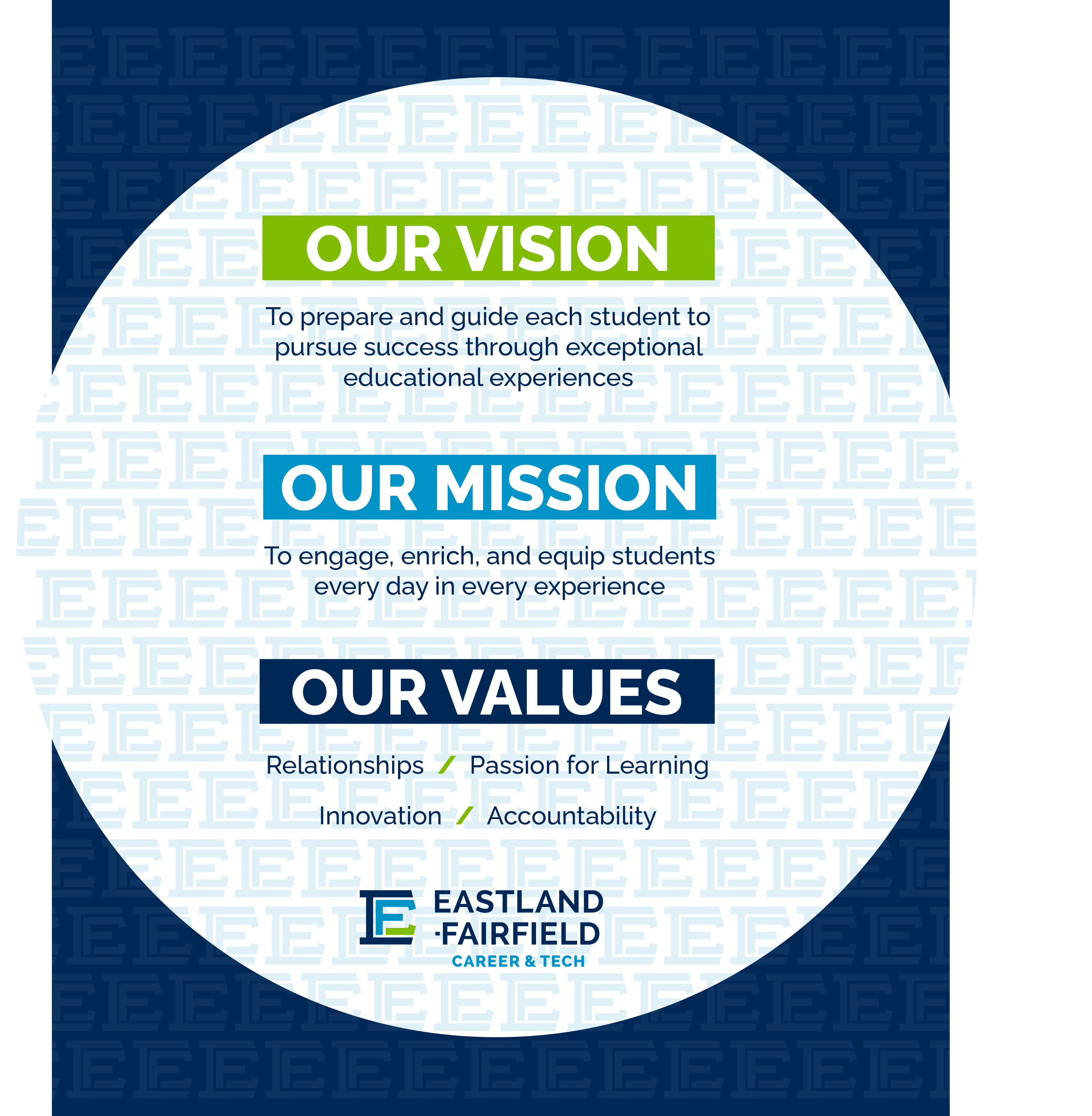 Eastland-Fairfield serves students in 17 area high schools and 10 middle schools, making us available to thousands of middle and high school students in our planning district. Our associate schools include:
500 - The number of students at the time of the Eastland Vocational School opening in 1968.

1,600 - Average number of current high school students enrolled in an EFCTS program, per year.

500 - Average number of adults served through Adult Workforce Development, per year.

800+ - The number of business partners who contribute time, knowledge, and resources to programs at EFCTS.

32 - The number of high school programs located at Eastland and Fairfield Career Centers.

7 - The number of satellite high school programs.

12 - The number of full-time, short-term programs and services in Adult Workforce Development.
A Brief Eastland-Fairfield History
1968: Eastland Vocational School opens its doors with Reynoldsburg, Whitehall, Groveport Madison, Canal Winchester & Jefferson Local (Gahanna) as part of the Joint Vocational School District (JVSD).

1970: Teays Valley & Pickerington Local become part of the JVSD.

1971: New Albany-Plain Local joins the JVSD.

1984: Amanda-Clearcreek, Berne Union, Bloom-Carroll, Fairfield Union & Liberty Union-Thurston join the JVSD.

1985: Walnut Township Local (Millersport) becomes part of the JVSD.

1987: Fairfield Career Center opens its doors.

1988: Adult Education begins.

1995: First satellite programs open with Performing Arts at Reynoldsburg High School and Environmental Science at New Albany-Plain Local High School.

2001: The district changes its name to Eastland- Fairfield Career & Technical Schools.

2003: A 20,000 square-foot expansion to Fairfield Career Center is completed.

2004: Construction is completed on new 6,000 square foot building for Electrical Technology and Adult programs.

2010: Adult Medical Assisting and Adult Dental Assisting students move into new lab spaces at Fairfield Career Center.

2011: Two new satellite programs and one existing program move into Gahanna's new Clark Hall facility.

2018: Eastland-Fairfield celebrates its 50th anniversary.

2021: The doors are opened to the newest building on the Eastland Career Center campus, the Engineering Technologies Center.

2022: EFCTS introduces its newest satellite program, Sports Medicine, at Gahanna Lincoln and New Albany high schools.